I recently got to visit Morocco for the first time. It marks the 41st country I've visited and my first time in Africa.
I was on my way to teach a class at the African Internet Summit, which this year in being held in Dakar, Senegal. Now I usually fly American Airlines but their website wouldn't book a flight to Dakar, so I started searching on-line. I did see that Iberian Airlines (a partner of American) had a flight from Madrid, but in the process of searching I discovered Royal Air Maroc. They had a business class fare on a Boeing 787 (one of my favorite planes) for about the same price as economy, so I decided to give them a try. Plus, I would transfer through Casablanca. Having never been to Morocco before, I decided on a one day layover so that I could see some of the city.
I flew American to JFK and then had to switch terminals from Terminal 8 to Terminal 1. This is a little frustrating because you have to exit and re-enter security. I did figure it out and even got there before the check-in desk opened (you can't check in on-line on RAM from the US).
While I was waiting in line, I struck up a conversation with a man named Tommy. Tommy is an American born in Lebanon, and he travels a lot for his business just like I do. Having spent a month in Syria many years ago, I did have some knowledge of the area, and we talked about the tensions between Syrians and Lebanese. I did confirm that "Syrian Checkpoint Jokes" are a thing, and he'd knew the one about the Volkswagen.
He has an apartment in Casablanca and offered to both drive me to my hotel once we landed and show me around. We got our tickets and headed for the gate.
I had an incredibly frustrating experience with the TSA at Terminal 1. They wouldn't recognize my Pre-Check status, and when I was asked to get in the box for a scan I politely asked to opt-out for a pat down instead. The screener immediately barked "Why?". Again, being polite, I asked if he really wanted to have this discussion. Apparently he did. When I brought up that these types of searches violated both the 4th Amendment and Freedom of Movement he didn't take it well, hand-waving it away with the nonsensical "this is administrative". In any case he made me wait for about 30 minutes for my pat down, and I'd still be there if another screener hadn't asked why my bags had been sitting there for a half an hour and did the pat down himself.
It was enough to make me avoid any flight through Terminal 1 in the future.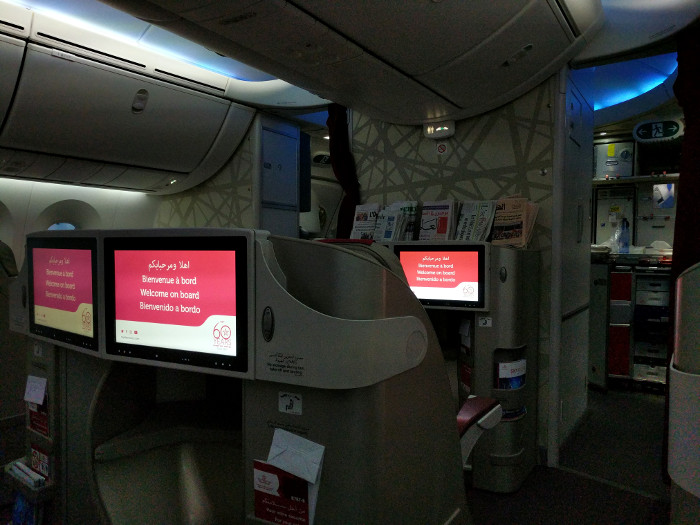 The rest of the trip went smoothly. When I fly on a 787 with American, the seat arrangement is 1-2-1. RAM uses a 2-2-2 arrangement which means the seats are slightly smaller. The entertainment options were also just okay, and while the little handout listing the movies was for "May-June" the actual content hadn't been updated, so they mainly had movies I'd seen. I always bring my own entertainment so that wasn't an issue, and the food was amazing.
We landed and getting through customs was a breeze. I swear Morocco has the friendliest customs agents I've ever met. They even smile. Crazy, I know.
Tommy and I met up at baggage claim, and after getting his bags we went outside to pick up his rental car. He has an arrangement where they meet him at the airport, so there was no counter like in the US, we just met his contact, waited a few minutes while they got the car, and then headed into town.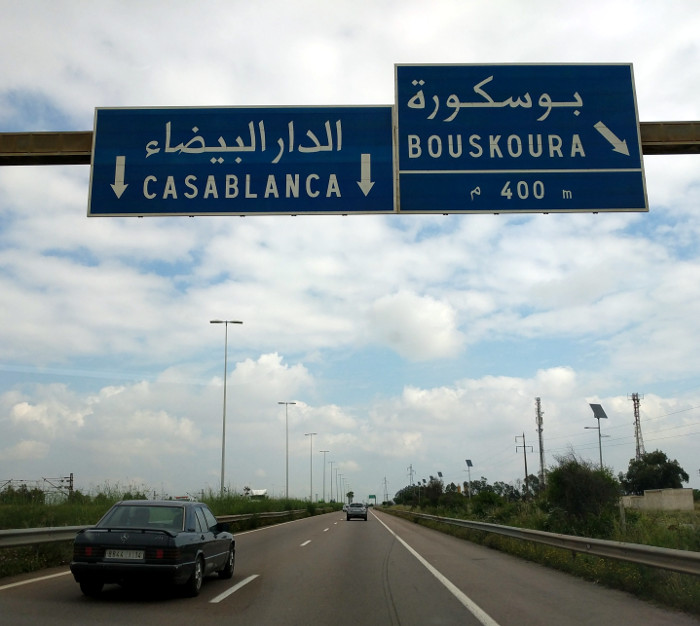 The airport is some distance from the city center, and as Casablanca is the largest city in the country it did start to get crowded as we got closer. Tommy dropped me off and we agreed to meet later in the evening.
I checked in, slept for a bit and showered, and Tommy came by around 7pm. I wanted to shop for a present for Andrea, and he had some friends who ran a jewelry store in a local mall so we went there. On the way we passed the famous Hassan II Mosque.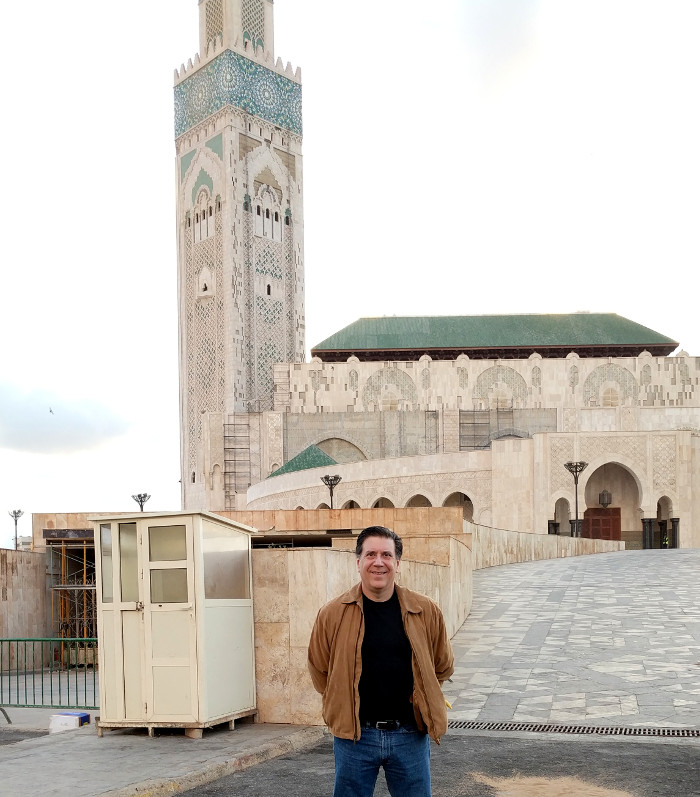 Morocco has been experiencing a lot of growth recently, and construction was everywhere. The Morocco Mall is similar to other high-end western-style shopping malls, and while not as outrageous as the malls in, say, Dubai, they did have a big aquarium.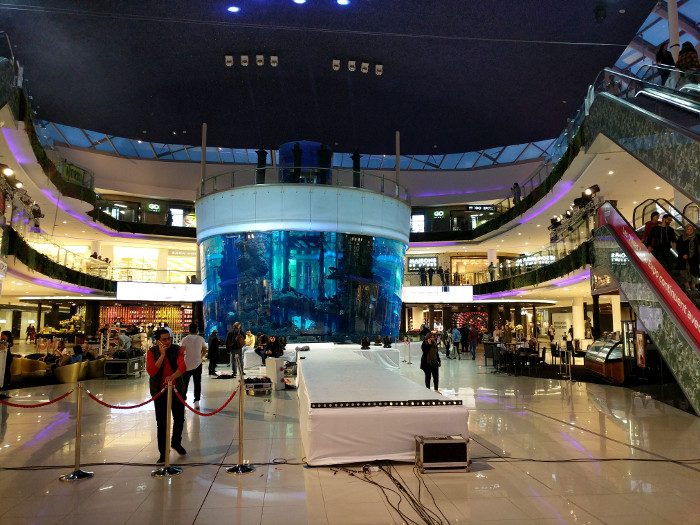 They were setting up for what I assumed would be a fashion show over the weekend, with the aquarium as the backdrop.
Tommy had a late evening business meeting and offered to drop me back at my hotel before going to dinner. His meeting was in the Kenzi Tower Hotel, which is also home to Sky 28. Sky 28 was suggested as a place to visit for cocktails so I offered to wait at the bar until his meeting was over, which would save some time (always willing to take one for team I am).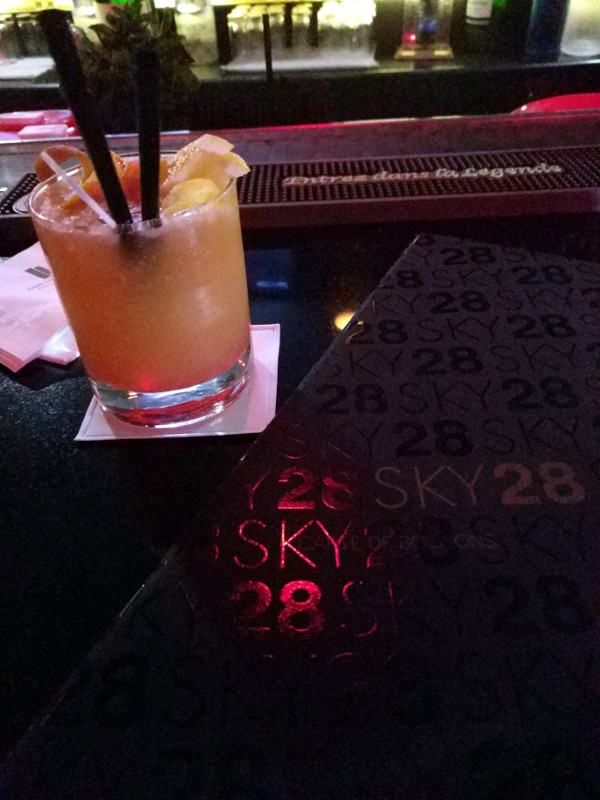 There are amazing views from up there, but I struggled to get a good picture. The drinks were just okay. I started off with a "Mai Tai" which was tasty, but isn't wasn't quite a Mai Tai and it was missing the signature lime. When the bartender identified me as an American he offered to make me a Manhattan and I thought it would be rude to refuse, and as he made it with Jack Daniels I probably should have, but it was nice even if it wasn't quite a Manhattan.
Once Tommy's meeting was over he took me to a place called Loubnane. Featuring Lebanese food and entertainment, Tommy was greeted as if he lived there. Needless to say we received excellent service.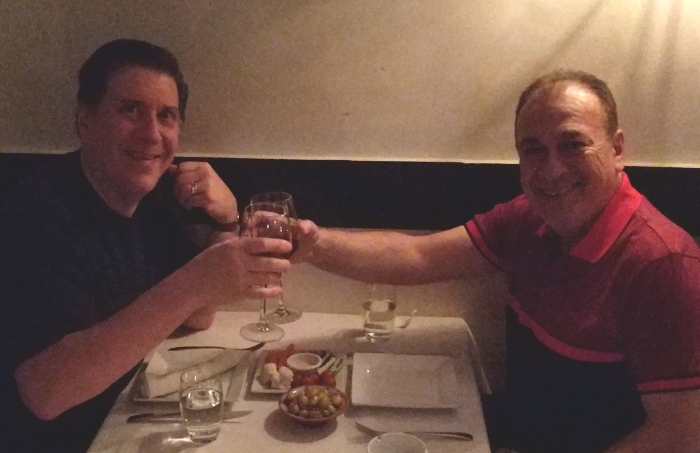 The place was packed and everyone seemed to be having a good time. It is loud and people were really into the man singing. Tommy ordered for us and it wasn't long before our table was literally covered with small plates.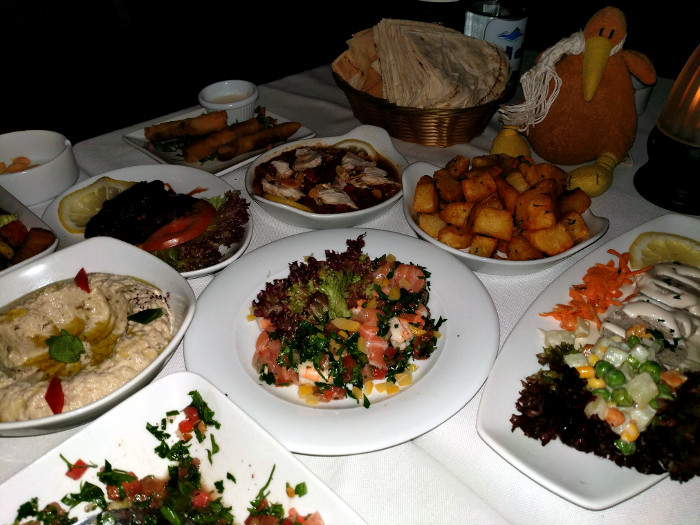 The food was amazing and since it was now after 10pm I was very hungry. I was working my way through each dish when Tommy pointed out that this was just the first round of "cold" plates – there would end up being three more – two sets of hot dishes and one of desserts.
I was stuffed, and I didn't eat another meal for about twenty hours.
Anyway, I learned that having a big mouth and talking to random strangers does have its benefits. Tommy lives in Miami most of the time and I hope to see him again and meet his family when I'm there in October. He dropped me off at the hotel with promises to see each other again, and I slept very well.
He gave me one other piece of advice which was to take the train to the airport in the morning. There was a train station less than a five minute walk from my hotel and the cost was US$6 versus about US$40 for a cab.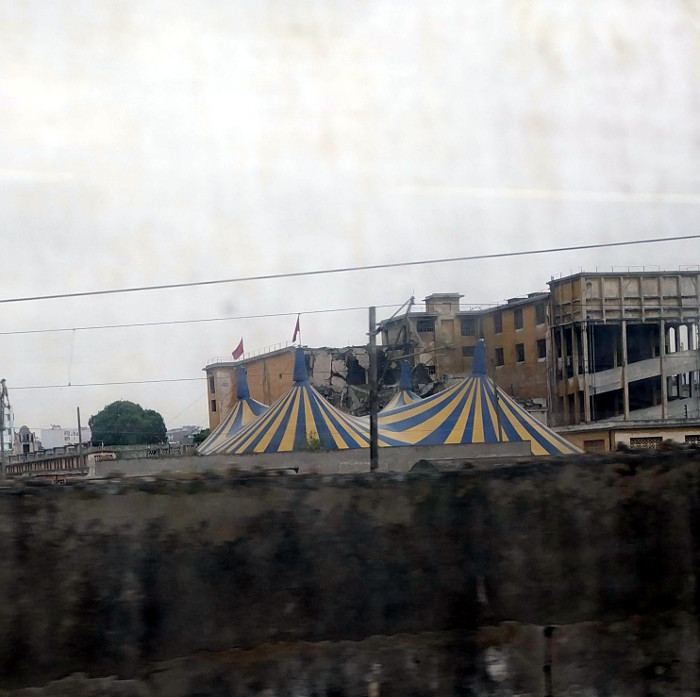 Plus I got to see a colorful tent that reminded me of Cirque du Soleil, although I don't think they are in Morocco at the moment.
While the trip was too short to say I've seen much of Casablanca (much less Morocco) we did cram a lot in and it was so much fun.