I was very unhappy to learn about the destruction that hit the island nation of Vanuatu due to Typhoon Pam this week. We had the opportunity to visit this beautiful and friendly nation back in 2012.
It is kind of hard to get to the country. We came from Fiji, but most of the tourists arrive from Australia (which, trust me, is a lot closer than we are here in North Carolina). Most people arrive in the capital of Port Vila, and we were no different.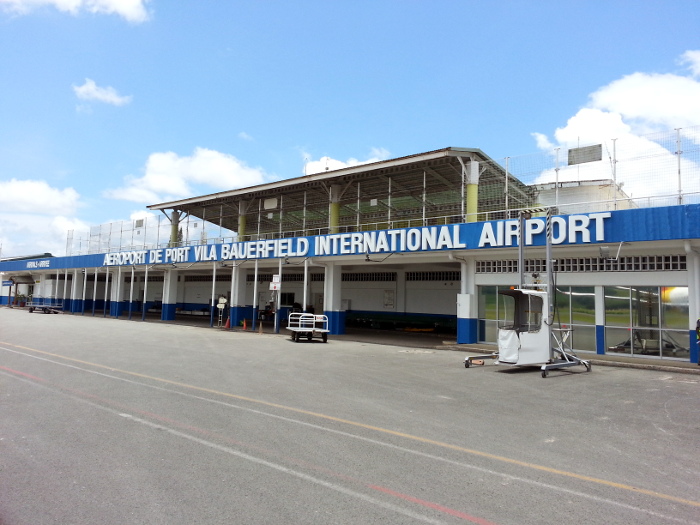 Vanautu was recently described as a "Hawaii without the hotels" and I can vouch for that. It's rural, in many places unspoiled, and is filled with some of the friendliest people you could ever meet.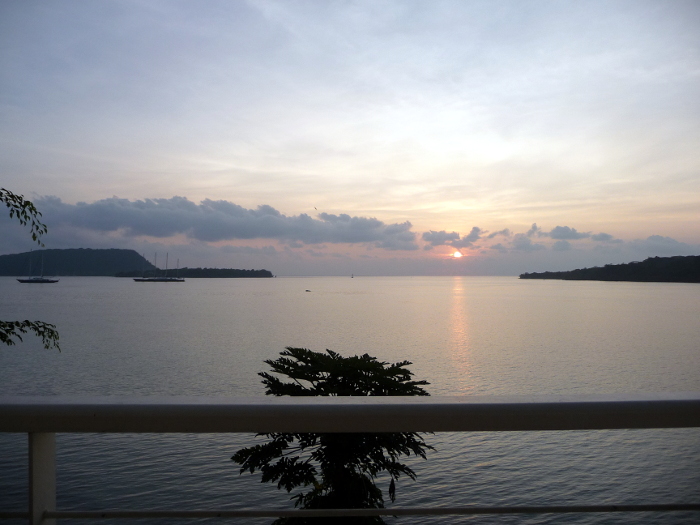 I also love the language, a pidgin called Bislama. "Me no tok tok Bislama quicktime, tok tok slowtime?" is a valid sentence that I used a lot while there.
While we flew into Port Vila, we spent most of our time on the large northern island of Espiritu Santo. The trip there was interesting. We got into a small plane with about ten other people. There was no metal detector and no safety lecture, and we stayed under 10,000 feet the whole time. The only thing that seemed to be important to the airport staff was that we had paid our US$2 travel tax.
Andrea went for the amazing scuba diving (the wreck of the SS President Coolidge is a popular dive site that she loved) while I snorkeled and read. I also believe I was the first person to ever wear an MC Frontalot shirt in country, and probably the region.
The beaches, such as Champagne Beach, reminded me a lot of places in Hawaii like Bali Hai, but without the crowds.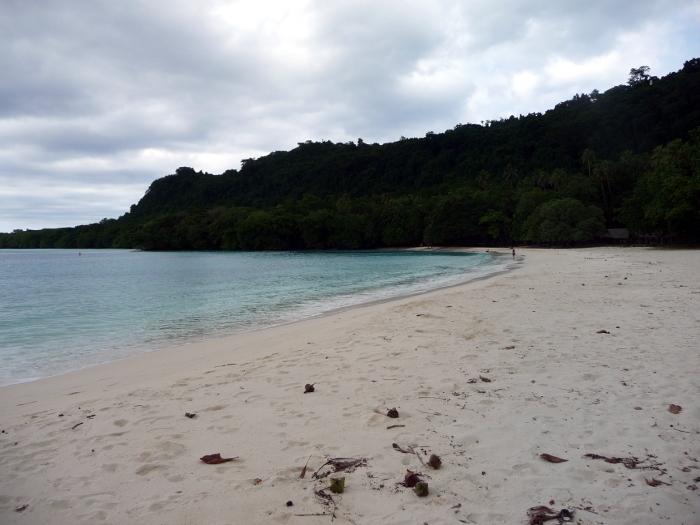 We stayed at a place called Moyyan House and I wrote to them to see how they weathered the storm. While Espiritu Santo was outside of the main path of the storm (and their website says that everything is okay there), the communication infrastructure for the whole country is having issues, so I have not heard back.
We did spend a little more time in Port Vila on the way home. I liked watching people play pétanque:
and we also had dinner with the newly elected Prime Minister.
Well, when I say "had dinner" I mean that we were in the same restaurant as a large party that was seated outside on a big deck, and when I asked who they were I was told that it was the Prime Minister and his guests, but, hey, he was eating and we were eating, so there.
Vanuatu still has a large part of the population that lives like they did hundreds of years ago. You may have seen the tradition of "land diving" that is done as a coming of age ritual on the island of Pentecost. With the distance between the islands and the numerous languages and dialects, it is no wonder that Bislama became the official language. Cannibalism has been outlawed (motto: "We haven't eaten anyone since 1969") and they make a seriously strong kava. They also have mutant, huge, poisonous centipedes but other than that most of the flora and fauna are well behaved (although, I am told, sharks can be a problem).
While I doubt any of my three readers are in Vanuatu, my thoughts are with the people there. If you ever get a chance to go, you should take it.