If I told you that you could buy a 200+ mph supercar for less than the price of a new Camry, would you believe me? Well, it's possible.
TL;DR: I bought a 2003 Mercedes SL55 AMG and it is the most amazing car I've ever owned. Capable of 208 mph yet still affordable, it represents the pinnacle of performance, luxury and value.
Probably the most iconic Mercedes ever made was the first generation SL, specifically the 300SL "Gullwing", although there is a 300SL and a 190SL roadster that are also in high demand. Since then there have been six generations of Super-Leicht (Super Light) SL models, and the one I want to talk about is the fifth generation, the R230, introduced in 2002.
The first car I ever bought with my own money was a 1978 MGB convertible. I put tens of thousands of miles on that car and ever since I've loved top-down driving. I used to ride motorcycles but the necessity to wear a helmet and other gear kind of offsets the freedom of being on a bike, so to me the safest open air experience one can have is in a convertible.
However, my lovely bride doesn't really care for convertibles, and most convertibles look like crap with the top up (I pretty much have a rule that the top is down unless it is raining). Enter the hard top convertible. A number of car manufacturers offer the option to own a convertible, but instead of the a soft top you get a retractable hard top. Thus when the top is up it looks like a normal coupe, complete with the extra quiet you get with a hard top and a glass rear window. I figured if I could find a model I liked then it would still look okay with the top up and also satisfy my discerning partner.

During the COVID-19 quarantine, a friend introduced me to a website called Bring a Trailer (BaT). It is my understanding that this website started out as a blog detailing interesting cars for sale and eventually morphed into its own auction site. They usually have around 300 or so cars for sale each week, sold in an auction format.
It has provided me with hours of entertainment. They have an anti-sniping feature where any bid within the last two minutes of the auction results in the auction being extended for two more minutes, and I have seen auctions go on for over an hour past their scheduled end time as bidders keep increasing their offers. There is also a well run comments section. I've learned a tremendous amount about various cars from the knowledgeable community that follow these auctions, and I also like the fact that for a few minutes after you post you can edit your comment for typos, etc.
In order to comment and bid you must set up an account backed with a credit card. BaT charges a 5% buyers premium on the sale price of the car (up to a price of $100,000 for a maximum commission of $5000) which gets charged to your credit card, and winning bidders then work out payment directly with the sellers.
[Unfortunately, BaT made the decision to sell a piece of the Porsche 550 that killed James Dean, and since then I have soured on the site. Although they made $5000 on the deal, it still struck me as being in very poor taste. I have since closed my account, but I may one day rejoin as I haven't really found a better site]
I've owned a large number of cars, and while I have fond memories of most of them (my Nissan Leaf POS notwithstanding) I've always been a fan of Mercedes. I owned a number of sedans, including a 1970 250, a 1972 220 and a euro-spec 1968 280SE that I wish I'd never sold. My most recent Mercedes was a 2004 C230 Sport that some friends sold to me and they liked it so much that I sold it back to them when I got another car. When I would take the C230 to the dealer I always lusted after the AMG cars in the showroom, and being exposed to BaT rekindled my love for the marque.
While I still love the old sedans, a bad car accident in July of 2019 has made me very safety conscious. Due to the accident my left ankle is busted, which rules out manual transmission cars, and I doubt I'll be on a motorcycle again in my lifetime. So I started looking for a more modern Mercedes that was safe but also featured a hard top convertible.
Enter the Mercedes R230. Produced from 2002 through 2012, this was the first SL to sport a retractable hard top. There were three main phases in the R230 production: 2002-2006, 2006-2008, and 2008-2012. I was really drawn to the first two because they featured the same round headlights that were on my C230, and I have a slight preference for them over the more rectangular lenses introduced in later models.
In learning about the model I came across the sixth episode of the first season of Top Gear, where it turns out that presenter Jeremy Clarkson owned one of the first year SL55 AMG models and they did a rather great review of the car. He had sold a Ferrari F355 in order to buy the car, which was probably a bad decision based on current values, but I loved how he summarized the SL:
The Ferrari is like a stiletto: sleek, accurate, deadly.

This, on the other hand, is more like a hammer. Big, a bit clumsy, but it'll still kill you. Actually, not a hammer. It's more like a Swiss Army Knife. It's a top-down funster, a long distance cruiser, a muscle car, a Messerschmidt ME109, a pose-mobile, and if your horse gets a stone in its shoe, it can deal with that, too.
It's definitely worth checking out if you can find the episode on the streaming platform of your choice, especially for the surprise ending (it's the last segment in the show).
I decided I wanted an SL55, and I started looking for one to buy. The 2002-2008 model years used the M113 V8 engine coupled with a supercharger, and enthusiasts often list the M113 as one of the best engines Mercedes ever made. The M113K came from the factory at just under 500 bhp, and I've seen some tuned to produce more than 700 bhp. Even though SL stands for "Super Light", the SL55 weighs in at 4400 pounds, and also comes with a crash actuated roll bar and multiple airbags, including a knee bag for the driver. These safety features appealed to me, post accident.
When I told Andrea about BaT she asked "how do you know you are getting a good car?" Well, the answer is, you don't. Unless you happen to live near the person selling the car, you are likely to be buying it sight unseen and with no warranty. To offset this, most auctions come with a huge number of photos (usually over 100 and often twice that or more) and videos. Sellers will post the results of a Carfax report so you can see if there have been any accidents, and the better sellers will include service records as well as being available to quickly respond to questions in the comments section. Also, BaT draws in marque enthusiasts who will weigh in (for better or worse) and point out things the average person might have missed. Plus, some sellers develop good reputations through multiple auctions.
Once I decided that I wanted an SL, I set a budget and started watching the auctions. Outside of looking for a good car based on its history, there were a few other things I wanted. I've been told that 50% of the Mercedes cars that are sold are black, and 45% are silver. I didn't want a black car. Don't get me wrong, black cars are beautiful but having owned a black car in the past I just remember how hard it was to keep clean. I've always liked silver on a Mercedes, but I also think the SL looks wonderful in other colors as well, although those always demand a premium at auction.
Just like green is associated with British cars and red with Italian, silver is the German racing color (it used to be white, although the story about how silver came about is apparently a myth). My C230 was silver, so when looking at SLs I figured I'd end up with a silver one considering my budget.
The next thing I was looking for was adaptive cruise control. I have a 2015 Toyota Highlander that was the first car I ever drove with adaptive cruise control, and I simply love it. It makes traveling so much less stressful. I was surprised to find out that a number of high end manufactures, like Mercedes and Jaguar, offered adaptive cruise as an option in the early 2000s. It wasn't cheap – the Mercedes version, "Distronic" cruise control, cost $3000.
It was my friend Nick who called my attention to the auction I ended up winning. The car was a 2003 SL55 with 18,000 miles on it. It had a clean Carfax and two previous owners, with the initial buyer owning it for most of its life. He was a doctor who split his time between New Jersey and Florida, and he had ordered the car with every available option as well as taken delivery in Germany. While 2003 was the first year the car was available in the US, and I'm a bit skittish about buying cars early in their lifecycle, it was the second year for the fifth generation overall so I assumed most of the serious kinks had been worked out. With a sticker price of over $128K (or over $183K in 2020 dollars) it seemed like a deal if I could get it within my budget.
The sticker didn't include the Kleemann modifications that had also been done to the car. Kleemann is a Danish company that provides aftermarket performance upgrades for Mercedes, and this one included high performance air filters, a smaller supercharger pulley (to increase boost) as well as an ECU and TCU remap to increase the brake horsepower by up to 20% (pushing the car well over 500bhp). The remap also removed the 155mph speed limitation imposed from the factory, and Mercedes has reported a top speed for this car of 208 mph. That added several thousand dollars to its value.
When the auction got close to ending, I made sure to shut down all other applications on my computer (and on my network) to make sure there would be no issues bidding (my Internet connection is provided by CenturyStink DSL). As I mentioned before, if a bid is made in the last two minutes of the auction, the timer will reset to two minutes, thus no one can "snipe" an auction. I always go into auctions with a strong idea of my upper limit, and so my bidding method was simple: bid the minimum bid increment (which at this level is around $250) unless someone else jumped, and then I would bid their jump. Stop when you hit the limit or you win. There were three of us bidding on this car, but at the end I won with a bid of $30,500 (and I can tell you that those last 30 seconds seem like forever).
So, yay, I won. What next? BaT takes their cut right off your credit card, but you pay the seller directly. They offer a pretty good list of steps to take, so I followed them to the letter. I had the seller send me a bill of sale and a copy of the title (just to make sure they did have the title in hand). Then I wired the money for payment, plus an extra $25 because I wanted them to overnight the title to me so I could get a plate from the North Carolina DMV as soon as possible. The next step was to arrange for shipping.
It looks like BaT has its own shipping system now, but back when I bought my car the company they partnered with couldn't get around to it for a couple of weeks, so I ended up using Montway. I bought the car on a Tuesday, it was picked up in New York on Friday, and I got it Saturday afternoon via enclosed trailer.
It was lightly raining the day I got the car, so I really couldn't try it out at the time. It came with everything promised, and the only disappointment was that the driver's side mirror needed to be replaced. Mercedes often come with self-dimming mirrors and over time they degrade. The mirror on this SL was very dark, although it didn't show that way in the pictures on the auction site. Luckily it is easy to replace and not that expensive (around $250).
The next day was beautiful and sunny, and I decided to take a long drive through the country. The top lowers in about 16 seconds, and I was on my way. It had been so long since I was in a convertible, and never one this nice, and there were literal tears of happiness coming out of my eyes.
The car is amazing. Insanely quick, with an exhaust note that is so musical you really don't need the stereo, although that is pretty amazing as well. As my Italian friends say "La machina es la musica". For a 4400 pound car it is incredibly responsive, and even at speed I don't detect any oversteer or understeer. Although you can find yourself doing 120mph (yes, with the top down) it is very enjoyable at 60mph as well.
One thing I enjoy is the Active Body Control (ABC) feature. This complex system operates the suspension at all four corners independently, which provides for an extremely smooth ride. I also live on a gravel road, and ABC has a setting where you can raise the whole car up an inch, which is also useful when going over speed bumps. Mercedes produced a cool ad that kind of demonstrates how it works.
A possible downside to the car is the electronic braking system (SBC). No one I know likes it, and it is known to have problems as well. But Mercedes being Mercedes, they have warrantied the system for 25 years, so I have some time left. To me the brakes work well, but they aren't exceptional.
Speaking of problems, while I have heard horror stories about SL maintenance, almost all of those involve the 12 cylinder version. The M113 V8 seems to be rock solid. If you are looking to buy any used car, especially something like an R230, it really does pay to look for one with service records as these cars, when well serviced, are very reliable. One thing I love about AMG cars is that the engine is assembled by a single craftsperson (not on an assembly line) and each engine comes with a plaque with that person's name on it. Mine was built by Sabato de Luca.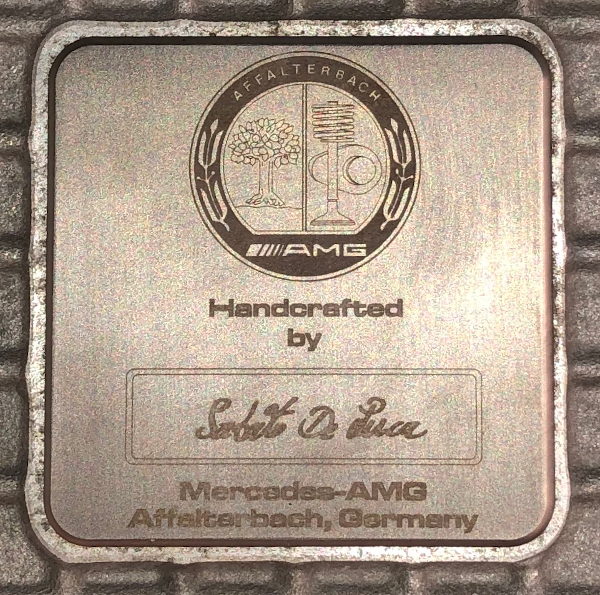 I did have the car checked out head to toe. Everything came back fine, although they suggested (and performed) a flush the ABC system. I am very anal-retentive about my vehicles and one thing that bothered me was the Tele-Aid system. Similar to offerings from other manufacturers, this is supposed to connect you (for a fee) to someone using the mobile network for roadside assistance, but this car was so old that it used analog cellular which no longer exists. I do believe there may be an upgrade path, but as it was something I wasn't interested in having I asked the mechanic to disable it (as it was throwing a malfunction alarm).
The only other expense I've had, except gasoline, was cosmetic. While the rims were in good shape, there were some scuffs so I had them refinished. I also had the brake calipers painted yellow (it was between that and red). While I love the silver color on the car, I wanted just a little bit of flair. With the color and the air intakes on the sides, it reminds me of a shark, so that's what I named it – The Shark.

Another thing I like about this car is the luxury. The other convertibles I've owned, an MGB and an Alfa Romeo Spider, were fun but no one would describe them as luxurious. For Mercedes the "SL" is in the same class as the top of the line "S". For example, the SL has seat memory – three positions. Big deal, right? That is common in today's cars. But what about on the passenger side? Seriously, the passenger seat gets as many options as the driver, including a massage function and memory.
The interior is leather, wood and Alcantara. For the exterior you get headlamp washers and a soft-close trunk. Plus you get the safety of a heavy car coupled with a roll bar that will automatically deploy in the case of an accident, and front and side airbags. The driver also gets a knee air bag.
To take the luxury even farther, the US version of the 2003 SL55 had nine options – all of which were equipped on the car I bought.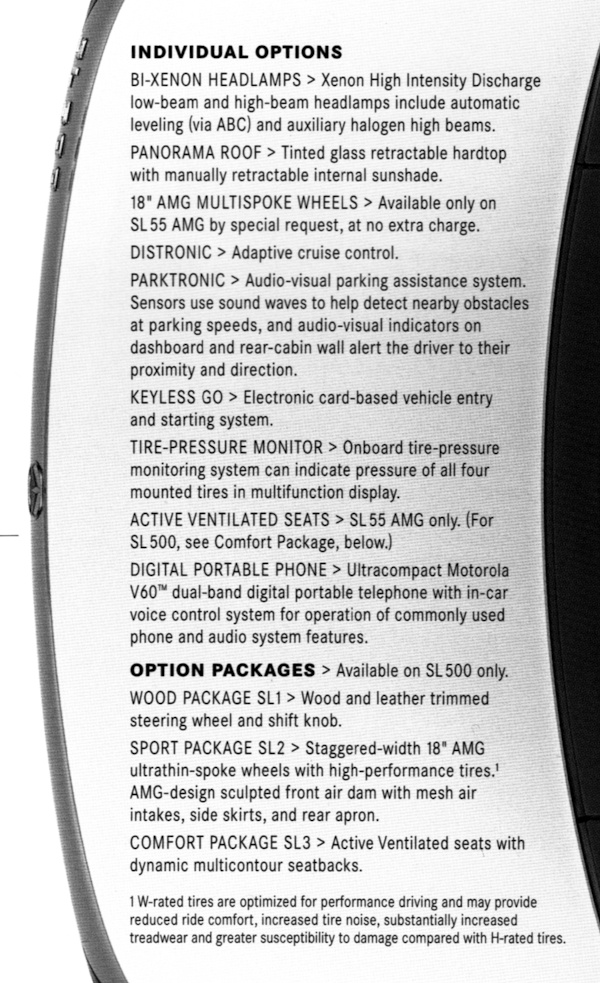 Bi-Xenon Headlights: The standard SL already came with Xenon headlights, so what the heck is "Bi-Xenon"? In the normal Xenon configuration, a Xenon bulb is used for the low beams and a halogen bulb is used for the high beams. With the Bi-Xenon option, over the Xenon bulb there is a shutter that directs the light in different directions depending on whether low beam or high beam is selected. Rather than move this shutter for "flashing" the headlights, there is an auxiliary halogen bulb that is used for that (Xenon bulbs don't like to be switched off and on frequently). Since both bulbs come on with high beams I really don't see much of a difference, but it was a $900 option.
Panorama Roof: While I almost never drive the car with the top up, occasionally I have to (like that one time I got caught in an unexpected rain storm). One cool option to help preserve that open air feel is a glass roof, similar to what you would find in a Tesla Model 3. I can't say I've used it much but, unlike a Model 3, there is a retractable sun shade should you desire to block out more light. $1800 option.
AMG Multispoke Wheels: This is probably the most controversial design choice for the car: the Black Forest Alps Rally wheels. A $1200 option, most people commenting on the looks of the SL55 are split over them. I haven't met anyone, myself include, who loves them (there is a wheel from later models that I really like) but they have grown on me. Some people hate them outright. Once I got mine polished up I think they look great with the painted calipers.
Distronic: I don't know if it is a language thing, but I am not fond of some of the names Mercedes gives to various options. Since they are "electronic" someone obviously thought it would be cool to add "tronic" to the end of everything. Distronic is the adaptive cruise control feature, and it is hard to find since it was a $2950 option back in 2003 and even people who could afford these cars new balked at the price. I'm even surprised it was available back then, and its novelty shows. I use adaptive cruise control all of the time when I can, and I found that the Distronic will often cut out with the error "External Fault! Reactivate". It really confused me until a local mechanic explained that the error is just Distronic's way of telling you something is weird and it would rather turn off than cause an accident. I usually see this on two lane roads when a large truck or something similar is coming the other way, but sometimes it turns off for less obvious reasons. It's a little annoying and I plan to have it checked out during my next service, but on multi-lane highways (where the feature is most useful) it tends to work fine.
Parktronic: Yet another "tronic" this feature is more commonly called "park assist" or something like that. Sensors in the front and rear of the car will alert when they detect the car is getting close to other objects, such as another car or the wall of a garage. Fairly common on cars now, it was relatively new back in 2003 at a cost of $1035. It works well, but sometimes too well. I have an issue where the left side alert will go on full blast for no apparently reason (usually after the car has been driven for awhile and you stop at a light). My mechanic says that can be addressed and it is another thing on the list for my next service.
Keyless-Go: Another unfortunately named feature, this enables keyless entry and push-button start common on modern cars. A $1015 option in 2003, this requires that you carry a little credit card-sized device which will unlock the doors with a touch and start the car by pressing a button on the gear selector. Outside of adaptive cruise control, this is one of my favorite convenience features, but the card is a little annoying. If there is a problem with the card, say a low battery, the doors won't open. Later versions of Keyless-Go were built into the main key, and I've been told this is something that can be retrofitted to older cars, but since anything key related with Mercedes must run through the dealer, and my local dealer is clueless, I'm probably stuck with it. But so far it has worked well so fingers crossed.

Tire Pressure Monitoring System: Like the name says, the TPMS reports the current tire pressure using wireless sensors at each wheel. For some reason when I got the car, the feature had been disabled. I had it re-enabled but noticed that the measurements are a little high. Note that this appears to have nothing to do with the standard low pressure warning, since on one cold winter morning I got a separate alert telling me to inflate the tires. The cheapest option at $630.

Ventilated Seats: Most people like the feel of leather but it can get a bit sticky in the heat of summer. Enter in ventilated seats. This feature (yours for an extra $1200) uses fans to blow air through the seats to keep you cooler. I have this on my Highlander and use it a lot, so it is nice to have on the SL, especially since I tend to always drive with the top down.
Digital Portable Phone: 2003 was a time before Bluetooth was common, so Mercedes offered the option of getting a mobile phone that integrated with your car. At $1995 it wasn't inexpensive, but the idea was you could carry a phone with you when out of the car and plug it into a cradle, and use the built in integration, when driving. The phone I got, a Mercedes branded Motorola V60, still powers on, but will not work with any modern wireless network. Luckily, when Bluetooth did become available a few years later, Mercedes created an adapter that plugs into the cradle and allows you to pair up to two phones. It works well, and even works with digital assistants like Siri. The Bluetooth protocol implemented, however, does not do music so don't expect to listen to your favorite tunes using this feature. For that I bought a little adapter that plugs into the auxiliary audio jack in the glove box.
In the Canadian market the SL could have a heated steering wheel as well, but otherwise this car was loaded.
As you might have noticed from my features description, the main issues I've experienced with the car involve the electronics. I really don't mind, though, because I have a soft spot for older electronics and I love the fact that these things work without a connection to the Internet. Around 2000 is when cars really started to become integrated with computers, and in modern cars those computers are constantly talking to some third party over the wireless network. I don't really like that. It is one of the reasons I don't own a Tesla, but even Toyota and other manufacturers are jumping on the bandwagon of having cars always "phone home".
One extreme example of the technological age of this car is the navigation system. It is based on compact disks, this was before even DVDs, and thus to cover the United States I need a small wallet full of CDs. The resolution is pretty minimal, especially compared to modern maps.

But I face the same problem with the Navigation system on my Highlander. Trying to get an update to that map is both a challenge and expensive. It was out of date the moment I bought the car, which is why I (and most people) rely on our phones for map guidance. It was a lot cheaper to buy a phone holder that mounts in the CD slot and just use it for trips than to worry about the built in system, but I still sometimes turn it on so I can watch my car travel through great empty sections of the map.
All of these electronics require more electricity than normal, so the SL comes with a second battery for the auxiliary systems in the trunk. If the car sits for awhile that battery will drain a bit, and thus you won't be able to operate things the hardtop or the heated/ventilated seats until you run the engine for a minute or two. To prevent this I bought a CTEK Battery Tender. It's mounted in the trunk and if I know I'm not going to be using the car, I'll plug it in so it's ready to go when I am.
The only downside to the SL55 is the fuel economy. While the built in calculator often reports my trips to town running about 13mpg, the actual numbers are much better, with an average of 15mpg and more like 18mpg on the few long trips I've taken. That isn't much worse than the Highlander, but I still wish it were better.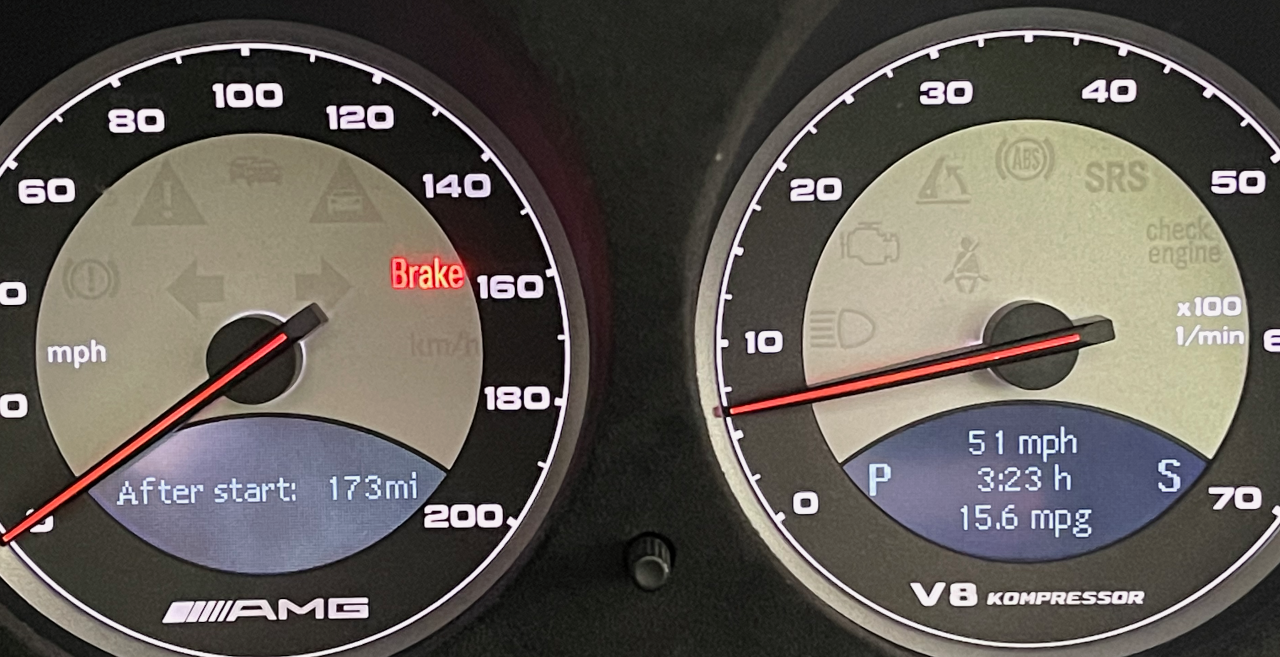 Overall, this has been my favorite car, and it is an utter joy to drive. I work from home and some days I just have to hop in, drop the top and take a spin through some twisty country roads to improve my mood. Through my informal observations of prices on websites like BaT and others, I think the R230 depreciation has hit bottom. People are finding out what deals these cars can be and are willing to pay for them.
If you are in the market for an R230, the first thing to decide is if you want the extra horsepower of an AMG version or if you are more into the creature comforts. The SL500 comes with a seven-speed transmission, versus a five-speed for the AMG, and that can make for a smoother driving experience.
I really, really, really love the M113 V8 engine, and unless you are confident in your ability to maintain a car (either by yourself or through a qualified local mechanic) I would stick with R230s with that engine. This limits you to the 2002-2006 model years for the SL500 and 2003-2008 for the SL55. The later models will get you more refined features, such as Distronic Plus, but they also cost more. For many the sweet spot is the 2007-2008 SL55, but I'm pretty happy with my launch edition 2003.
Another issue that will affect price is the color. For the 2003 models there were 14 different color options. Funny enough, three of them were various shades of black and four of them were shades of silver. Non-black, non-silver cars draw a premium (the most expensive R230 I saw on BaT was red on red and went for $66K), and some of the other colors are stunning. But also note that you can get a full wrap for around $4500. So if you don't mind that the inside of your engine bay will be a different color than the outside, you can change the exterior to any color you like. Originally clear and designed for paint protection, wraps can both protect the paint and let you express your individuality. Also, while not easy, they can be carefully removed and the car returned to its original configuration.
As always with any used car, take the time to find one that has obviously been cared for and comes with a clean Carfax and service records. If you are on BaT look at the seller's other auctions and at the feedback (just click on the seller's name). Some sellers spend a lot of time and care bringing cars to auction and it is reflected in the comments, whereas others buy cars wholesale, just change the oil, and you can't be as sure about the quality. The car I bought was the first auction by my seller, and overall I'm pretty happy with the experience.
The last new car I drove was a leased Nissan Leaf and it was the worst car experience I've ever had. By comparison the purchase of this SL55 was a walk in the park, and it just goes to demonstrate that real deals can be had in the used car market if you do your research. If you have ever wanted to own a classic Mercedes, Porsche, Aston Martin, Bentley, whatever, there has never been more options at your fingertips. My purchase has provided more smiles per mile than anything else I've ever driven, much less owned.
While electric cars are obviously the future, for both average transportation and sports cars, I still have a fondness for the internal combustion engine. I like the fact that there are explosions happening inches away from my feet. I love the roar of the engine as you engage the throttle – it's almost like there is an angry, fire breathing dragon under the hood – and I am the Dragon Master! (grin)