By definition a tradition is "a specific custom or practice of long standing", but then how do "new" traditions get started?
In the case of our New Year's tradition, it came down to a newsletter from 1996.
In the southern United States, the traditional New Year's meal is collard greens and black-eye peas. I'm not a huge fan of either, and usually by New Year's Day I'm still dealing with holiday leftovers.
One thing I struggled to deal with was the leftover Christmas ham. A tradition in our family, there is often so much other food that there is plenty of ham left after Christmas dinner. I was thinking about this at the end of one year decades ago when I came across a newsletter I had saved from the winery Clos Pegase.
In the early 1990s, Andrea and I lived for a year in Sonoma County, California, which was just a short ride over the hills to Napa Valley. Considered the heart of California wine country, it was also home to a vineyard created by Jan Shrem dedicated to Pegasus, the winged horse from Greek mythology.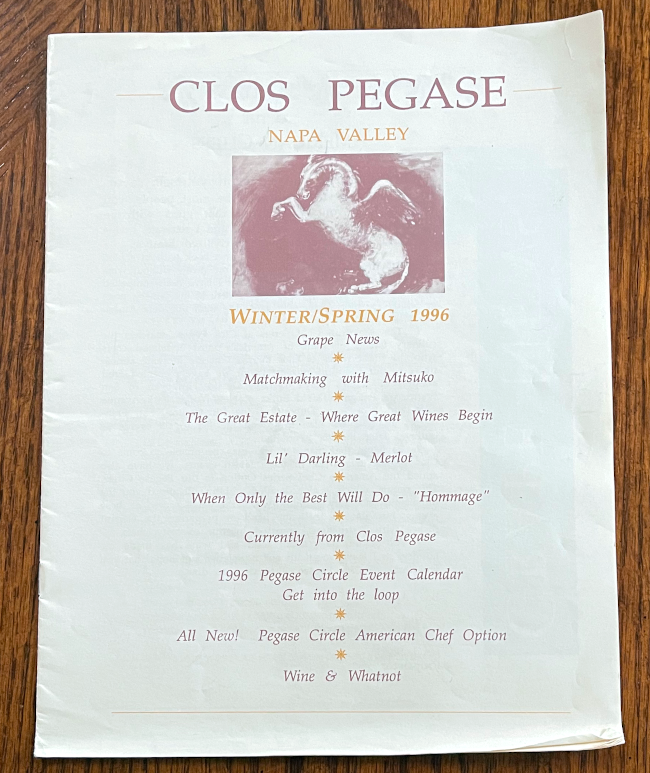 In this newsletter was a column called "Matchmaking with Mitsuko" written by Shrem's wife. It had a recipe for "Winter Chowder" which I adopted for our annual tradition. I thought folks might like it so I'm sharing it here.
New Year's Ham and Corn Chowder
1 pound (or more) leftover Christmas ham. Ours is usually smoked and you can substitute bacon or other meat.
1 medium onion, diced
1/2 cup butter, plus two tablespoons for browning the ham
1/2 cup all purpose flour
2 cans creamed corn
1 quart half and half
2 cups chicken stock
2-3 russet potatoes, peeled and cubed)
white pepper to taste
I cook this in a Crock-Pot but you could use a heavy pot on the stove as well. You are mainly cooking this to make the potatoes tender but I also like to slowly blend in the flavors.
Place the ham in a food processor and pulse until chopped (I usually do it until the pieces are pea-sized).
In a skillet heat up the two tablespoons of butter until melted. Add the onion and saute until tender, then add the ham. I usually stir it until bits of the ham start to caramelize.
Dump the onion and ham into the Crock-Pot and add the creamed corn, half and half, chicken stock, potatoes and white pepper. Turn the Crock-Pot on low.
Wipe out the skillet and add the 1/2 cup of butter and heat until melted. Slowly add the 1/2 cup of flour while stirring to create a roux. I don't let it get too brown, just to a light tan.
Add the roux to the Crock-Pot and stir until everything is incorporated. Cook on low for five to six hours, stirring occasionally until the chowder is bubbly and has a thick consistency.
Serve in bowls and top with oyster crackers.